Overview
As the capital and largest city of Iowa, Des Moines has traditionally been the state's transportation hub. In the early days of automobile travel, the north-south Jefferson Highway and the east-west River-to-River Road and Great White Way all intersected in Des Moines. When the primary road system was adopted in 1920, Des Moines became the intersection of Primary Roads 1 and 2. Maps from this era are hard to find, and the maps that I have found do not show what streets these primary roads followed. However, the University of Texas' Perry-Castañeda Map Collection has a 1919 map of early auto trail routes in Des Moines. While it is hard to tell what routes each highway followed in the city, these streets were used for highways entering and leaving the city: Beaver Avenue, 6th Street, East 14th Street, Easton Boulevard, North (now University) Avenue, Indianola Avenue, SW 21st Street (now Fleur Drive), and Grand Avenue. The diagonal Hubbell Avenue and Keo(sauqua) Way did not become part of Des Moines' street system until later in the 1920s.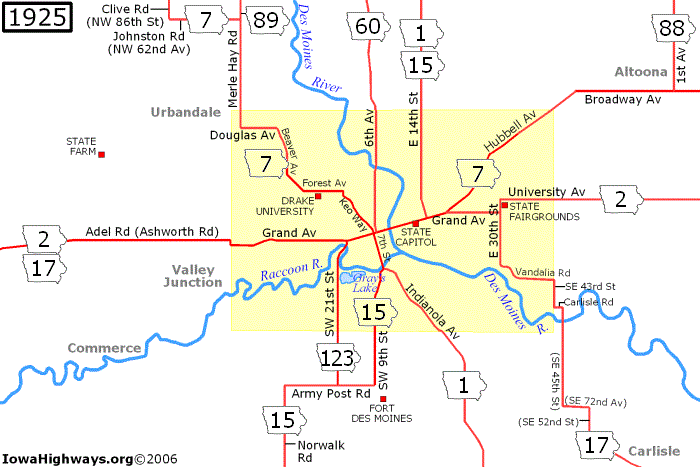 By 1926, the need for a national highway numbering system had arisen, and the US highway system was born. US highways 32 and 65 would intersect in Des Moines, while US 63 would have its north endpoint here. (The intersection where US 63, and later US 163, began was unknown until I discovered the Des Moines Register of October 17, 1926, which had a map of the new highway alignments in Des Moines. After some speculation that it was where Hubbell Avenue split from Grand Avenue, it was really at the intersection of East 14th Street and Grand.)

Several changes were made to numbered highways in Des Moines as a result of the US highway system. The original IA 1 became US 65, IA 2 was split between US 32 (west of downtown) and US 63 (east of downtown), and IA 7 was replaced with US 32 east of downtown but remained intact west of downtown. IA 15, which followed IA 1 from Ames to Des Moines, was dropped north of Ames and renumbered IA 28 south of the intersection of 7th Street and Indianola Avenue. IA 17 became IA 6 from its north endpoint at US 32. In short, five highways — IA 123 (18th Street), IA 7 (7th Street), IA 60 (6th Avenue), US 63 (East 14th Street), and IA 6 (Hubbell Avenue) — ended at Grand Avenue once the renumbering of state highways was finished on October 16, 1926. Of the highways that existed January 1, 1927 (shown below), only US 65 and IA 28 remain in the Des Moines area today.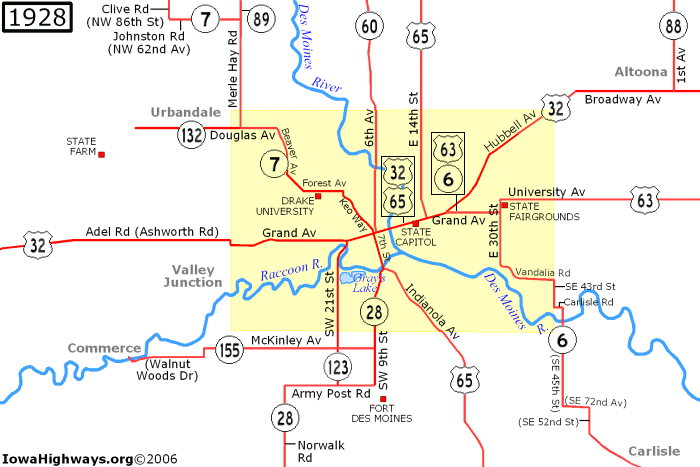 On April 27, 1931, the front page of the Register mentioned that US 32 would be rerouted from Adel to downtown Des Moines along Hickman Road and IA 7 into downtown rather than along Adel (now Ashworth) Road and Grand Avenue. The change would not take effect until November 19, when the paved road between Waukee and Des Moines opened. The old US 32 remained part of the state highway system until July 1, 1932. (Part of the original US 32 alignment — V Avenue between University Avenue and Ashworth Road on the outskirts of Waukee — remained gravel for more than 75 years after the realignment. It was finally paved by mid-2008, after Waukee annexed the area around V Avenue and renamed it L.A. Grant Parkway.) Grand Avenue west of downtown was dropped from the state highway system for a short time, but in 1932, IA 90 was designated to run along Grand from downtown toward Valley Junction and the village of Commerce to its eventual destination of Dexter. IA 155, which went from Commerce across the Raccoon River and along McKinley Avenue, was also dropped from the state highway system at the same time that US 32 was rerouted. The bridge across the Raccoon was washed out by a flood in 1965 and was never replaced, while parts of McKinley near the airport — which set up in its present location in 1933 — have since been removed.

As paving of US 32 across Iowa was nearing completion, the American Association of State Highway Officials announced that US 32 would become US 6 on December 1, 1931. The designation of US 6 meant that IA 6 needed a new number, so IA 60 was extended across the Grand Avenue bridge to replace IA 6.

The May 3, 1932, Des Moines Tribune noted that a traffic flow change would occur in the area east of Drake University. While all US 6/IA 7 traffic had previously used 21st Street and Carpenter Avenue to go between Forest Avenue and Keosauqua Way, westbound traffic would follow 19th Street between Keo and Forest while eastbound traffic would continue to use 21st and Carpenter. On August 19, 1931, the Highway Commission approved a rerouting of southbound US 65 (and, presumably, eastbound IA 7) traffic in the downtown area. Southbound US 65 traffic was moved to 9th Street, with US 65 following Mulberry Street between 9th and 7th. (For some time before that, US 65 was moved onto 10th Street after left turns at 7th and Grand were banned. Today, since both streets are one-ways, you can only turn left from westbound Grand to southbound 7th.) Another highway routing change through downtown was approved by the Highway Commission on July 20, 1932, and announced in the July 28 Tribune. Westbound US 6 and northbound US 65 traffic was rerouted onto 5th Street, with US 65 following Mulberry east of 7th.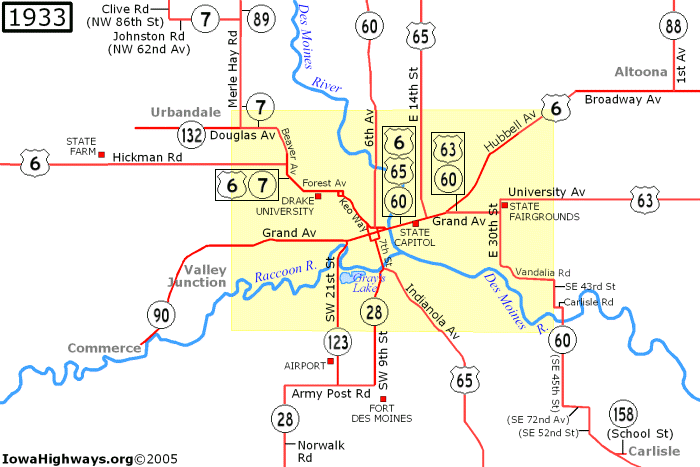 While plans to reroute US 6 away from downtown altogether were discussed as early as 1932, the Highway Commission stated that a new bridge had to be built across the Des Moines River first. That bridge opened on December 3, 1934, taking US 6 away from downtown and putting it on a shorter and faster route that only had one stoplight at the time, according to the Tribune. IA 7 remained unchanged for the time being, while "City US 6" was designated along US 6's old route into downtown. (Since City US 6 was not officially a state highway, the standalone segments appear in gray on these maps.)

The December 6, 1934, Register mentioned that several changes to the US highway system were in the works, and one of those changes was the removal of US 63 from Des Moines. US 163 was designated to replace US 63. US 69 was extended to downtown Des Moines at the same time, but in May of 1935, it followed US 65 from that point through Des Moines to Ames, where it followed the remainder of the original IA 15 all the way into Minnesota. By that time, four highways — City US 6, US 65, US 69, and IA 60 — followed Grand Avenue across the Des Moines River and past the State Capitol. That changed by the end of 1937, as US 65/69 was rerouted onto SE 14th Street across a new bridge to its previous alignment along Indianola Avenue. In return, IA 28 was extended along part of 65/69's old route to end at Grand.

On July 21, 1937, US 163 was demoted to a state highway, IA 163, after the American Association of State Highway Officials began to discourage single-state US highways. However, signs may not have changed right away — newspaper ads for downtown Des Moines merchants' "Bargain Days" in October 1937 told customers to "Pick Your Happy Highway" to head downtown. The ads included markers for every highway in the city at the time, including US 163. The change was definitely done by April 4, 1938, as that day's Tribune showed photos of IA 60, IA 163, and City US 6 markers at the intersection of East 14th and Grand. This change did not receive the publicity that another name change — that of the city of Valley Junction to West Des Moines on January 1, 1938 — received.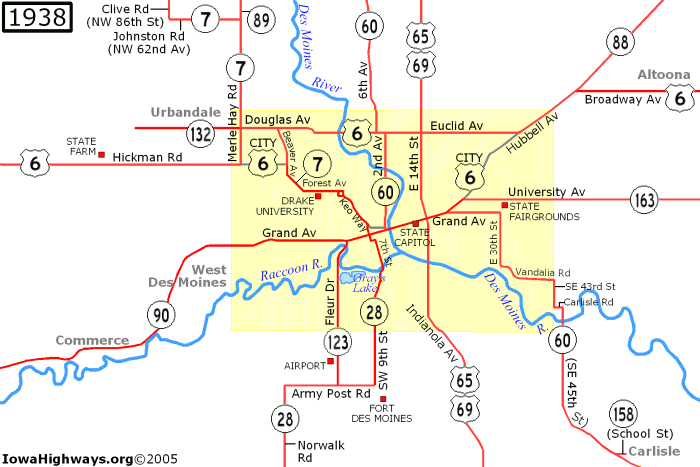 On July 22, 1939, IA 64 was extended from Anamosa to Council Bluffs in order to create a single numbered highway from Omaha to Chicago. But rather than go through downtown the way IA 7 did, IA 64 followed US 6 along Douglas, Euclid, and Hubbell Avenues. In 1940, US 65 was rerouted between Colo and Des Moines, creating a triplex between East 14th and Broadway Avenues. The original IA 89, which followed Merle Hay Road from Johnston Station (now the city of Johnston) to Camp Dodge, was replaced by an extension of IA 141 in 1941.

The April 1, 1938, Tribune mentioned plans for a four-lane extension of SE 14th Street from Indianola Avenue to Army Post Road to carry US 65/69 traffic. However, the relocation was not done until August 1942 — likely to improve access to the U.S. Army post at Fort Des Moines during World War II, hence the name "Army Post Road." IA 28 was relocated onto Army Post Road when the new road opened, and the former segment lasted as IA 46 until 1950.

After a 1937 move between Euclid and Grand Avenues, IA 60 was rerouted along 2nd Avenue north of Euclid on December 8, 1942. (Plans for a four-lane road to Ames, running west of US 69, were mentioned in the January 5, 1939, Register, but the segment between Broadway Avenue and IA 160 south of Ankeny did not become four lanes until 1961. Ames wouldn't get a four-lane connection to Des Moines until 1965, when I-35 opened.) IA 60 was also rerouted along University Avenue with a relocated IA 163; IA 90 was then extended along 2nd Avenue to replace part of IA 60. After all the dust was settled, City US 6 was the only highway on the Grand Avenue bridge.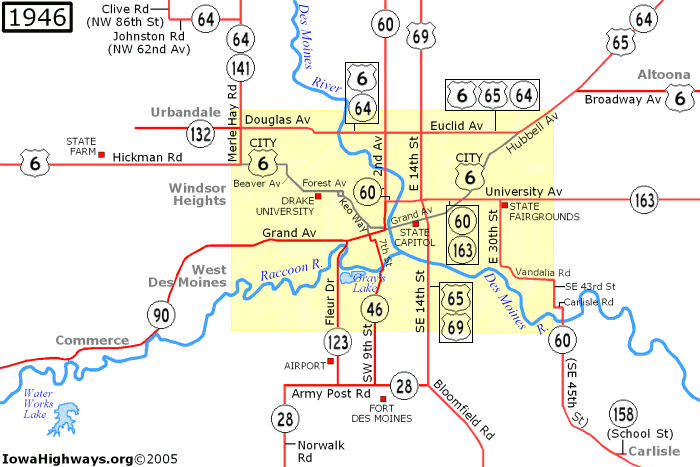 On February 15, 1953, the city of Des Moines adopted a one-way street system through downtown. This system included Grand Avenue and Locust Street between Fleur Drive and East 9th Street, literally in front of the State Capitol. IA 90 and City US 6 were affected by this change. (Many of them are still one-ways today, although Grand and Locust east of 2nd Avenue are two-ways now, and the block of Locust east of Penn(sylvania) Avenue is no longer open to traffic.) A few more one-ways were added on November 10, 1957, particularly 3rd Street and 2nd Avenue. A new IA 46 was created on September 22, 1953, after IA 60 was rerouted along US 65/69 and a new stretch of Army Post Road.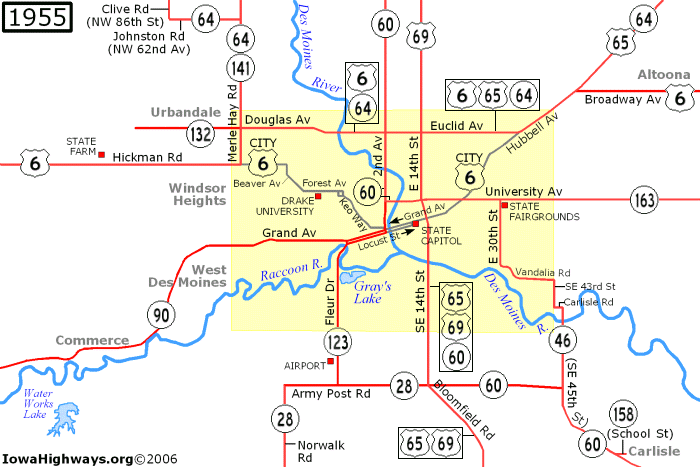 The biggest changes to Des Moines' highway system were yet to come. On November 12, 1955, the Register published a map that showed plans for a US 69 bypass of Des Moines that would have run all the way southward to Osceola. On June 22, 1956, Congress passed the highway act that created the Interstate highway system. Construction soon began on "Super 6" and "Super 69," which in 1957 were numbered I-80 and I-35 respectively. A planned 14-mile freeway through Des Moines also became part of the Interstate system.

The first Interstate highway segment opened on September 21, 1958, as I-35 opened from Douglas Avenue (IA 132 at the time) to the Cumming exit. The segment from Douglas Avenue to Merle Hay Road opened November 9; a relocated segment of IA 141 also opened from Granger to the "Rider Corner" interchange (where there was once a village called Rider that has since been annexed by Urbandale) at I-35/80. While the former IA 141 segment north of Camp Dodge was turned over to the county, IA 401 was created from the remaining segment between Camp Dodge and the Interstate. The November 19, 1958, Des Moines Tribune had a story about four more highway changes that had been approved by the Highway Commission. IA 64 was taken off its old alignment through Johnston (which incorporated in 1969) and put on IA 141 and I-35/80. IA 90 was removed from Grand Avenue and put on Hickman and Merle Hay Roads (in a redundant multiplex with US 6) to Douglas Avenue. US 6 and IA 90, meanwhile, switched routes between Dexter and I-35/80; US 6 followed the interstate to Hickman Road. Finally, the original alignment of IA 123 — which had followed 18th Street and Fleur Drive since the 1920s — was turned over to the city while the 1957 east-west extension of IA 123 along Army Post Road to the new I-35 remained for the time being.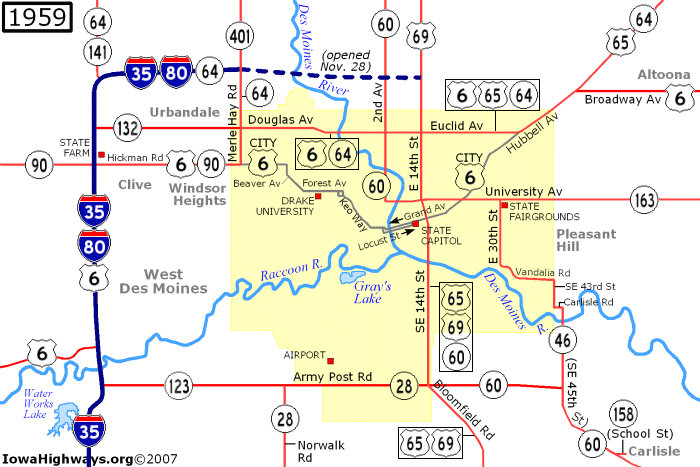 On June 13, 1959, IA 60 was rerouted away from downtown as a new segment opened from Madrid to Granger. Part of the old 60, from Polk City to the intersection of 2nd & Euclid, became IA 415. IA 60 was then routed along IA 64/141 and I-35/80 to Army Post Road, and then it replaced what was left of IA 123 to US 65/69 (although IA 28 remained as a second number on part of Army Post until 1961). The relocation of IA 60 left City US 6 as the only signed highway through downtown. Maps vary as to how long City US 6 lasted. Except for Rand McNally, many cartographers showed it well into the 1960s, and Gousha showed it as late as 1976. The state highway maps from 1964 to 1968 marked it as a green line, labeled as "Business Route," on the Des Moines map. (Incidentally, part of City US 6 no longer exists. The block of Keo Way between 8th and 7th Streets downtown was removed in 1993 to make room for a Principal Financial Group office building. The segment east of 7th was renamed Watson Powell Jr. Way, after the former American Republic Insurance president, in 2000.)

In 1959, Polk County began renaming its rural roads to conform with the street numbering system in Des Moines. (In a way, they adopted an E-911 street numbering system before there was such a thing.) The old names are shown on the pre-1959 maps here if they are known. Modern names are shown in parentheses if the road is no longer a state highway, or if the old name of the road is not known.

I-35/80 opened from Merle Hay Road to East 14th Street on November 28, 1959, while the segment from East 14th to the exit between Colfax and Newton opened November 17, 1960. US 6 and IA 64 would be moved to the freeway, with IA 90 taking over US 6's old route and IA 401 replacing the freestanding segment of IA 64 along Merle Hay Road. However, the US 6/IA 90 swap was not made until August 9, 1961, as businesses along US 6 initially disliked the idea.

While I-80 and I-35 were becoming reality, work on a freeway through Des Moines began. Although we now know it as I-235, newspapers simply referred to it as "the freeway" during its planning stages. (It was officially named the MacVicar Freeway, after former mayors John MacVicar Sr. and Jr.; however, most people refer to it as "I-235" now.) By the end of 1962, a small segment between Cottage Grove Avenue and Keo Way had opened. (Since 2002, there is no longer any access to Cottage Grove from I-235.) By the end of 1963 that segment extended across the Des Moines River to East 6th Street, creating a bypass of downtown.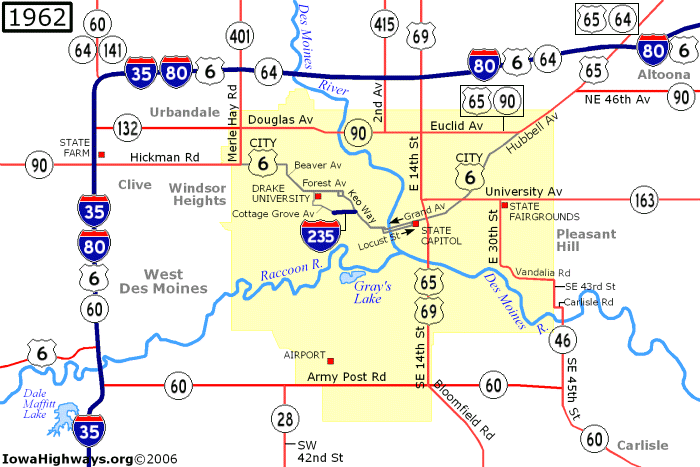 Why was I-80 shown further south than its present route in the 1959 and 1962 maps? Because the original proposed routing for I-80 was closer to the Raccoon River, and I-80 would have joined I-35 at the Grand Avenue cloverleaf interchange, which was why that interchange was built as a cloverleaf to begin with. The Highway Commission later realized that acquiring right-of-way along the original route was too expensive, so on October 2, 1963, the Highway Commission approved the relocation of I-80 on its present alignment between Dexter and I-35. The realigned I-80 tied in with I-235 into a new "West Mixmaster" interchange. When that segment of I-80 opened on December 13, 1966, US 6 was put back on its pre-1958 alignment after the Commission felt that the multiplex was unnecessary.

In 1965, US 65/69 was rerouted onto one-way streets near the junction of I-235. (Johnson Court, for those who don't know, is the name for the two diagonal streets that connect East 14th with East 15th.) While there had been some plans to put US 69 on I-35 when the Interstate was in the planning stages, US 69 was never rerouted.

Construction of Des Moines' share of the Interstate Highway System was progressing as the 1960s passed. A four-lane highway finally connected Des Moines and Ames as I-35 opened between the two cities on November 11, 1965. By the end of 1967, I-235 had been finished from 63rd Street to the "East Mixmaster" interchange with I-35 and I-80. Finally, the last segment of I-235 through West Des Moines opened on October 30, 1968. Some of the original signs at the "West Mixmaster" survived into the 21st century, as the ghosts of the I-35/IA 60 multiplex remained on southbound I-35 until the signs were replaced in mid-2007. Signs on eastbound I-80 that originally showed an I-35/I-80/IA 60 multiplex were replaced in early 2003. (Photos of these can be found on the Contributed Photos section of the Photo Gallery.)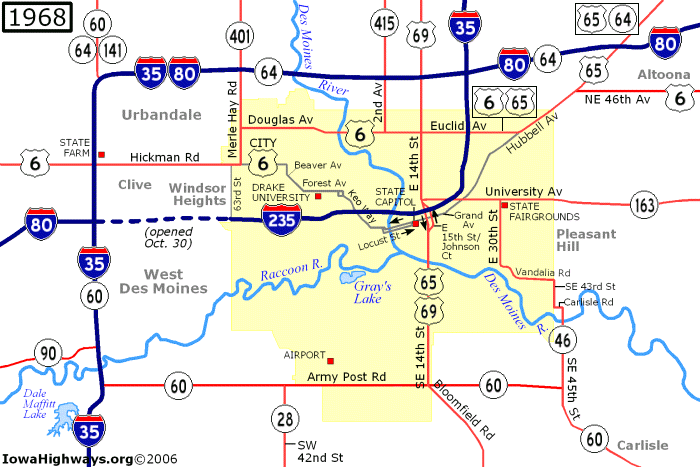 The January 1, 1969, Great Renumbering brought two significant changes to Des Moines' highway system. IA 64 was removed from the Des Moines area (the standalone segment west of Grimes became IA 44), and the original IA 60 was decommissioned. The multiplexed segments with I-35 and IA 141 were dropped, Army Post Road became IA 5, and the standalone segment north of Granger became IA 17.

The 1970s were a relatively uneventful decade, as the only change to Des Moines' highway system was the 1970 relocation of US 65/69 from Bloomfield Road to a new four-lane road south of Army Post Road; by the end of 1971 that four-lane road extended southward into Indianola. In 1980, the DOT took over jurisdiction of 63rd Street, which had been a city street that straddled the western boundary of Des Moines and the eastern boundaries of Windsor Heights and West Des Moines. That road became an extension of IA 28. Although drivers wouldn't have noticed this, the DOT also assumed jurisdiction of three county roads that year; these roads appear in gray on the maps below. NE 94th Avenue between I-35 and US 65 became IA 931 (not shown), NE 72nd Street between IA 931 and I-80 became IA 945, and NE 56th Street between US 6/65 and IA 163 became IA 950. (IA 931 and 945 would be signed from 2000-2003, while IA 950 was given back to Polk County in 1994.) US 6 was moved onto I-80 from Altoona to Newton in 1980 (although the segment in Altoona remained under state control as IA 926 until 1987), while IA 90 was removed from the state highway system by the end of 1981.
Des Moines' highway system looked like the map above for most of the 1980s. After the city of Johnston took over Merle Hay Road north of I-35/80 on July 5, 1990, IA 401 was truncated before replaced by an extension of IA 28 along Hickman and Merle Hay Roads to I-35/80 in 1991.

Plans for a freeway loop around Des Moines were discussed as early as the 1960s, but construction on this 24-mile freeway would not begin until 1992. The first segment of the bypass, which had been proposed as "Freeway 500" in the 1970s, opened as a relocated US 65 on December 21, 1994. US 65 was temporarily multiplexed with IA 163 between East 14th Street and the end of the bypass. When the first segment of the bypass opened, US 6 was taken off Hubbell Avenue to follow US 65 along the bypass and I-80. However, this would be short-lived, as US 6 was put back on Hubbell less than two years later. (If you look at the right time of the day, you can see spots for two US highway shields on the signs for exit 141 along I-80.)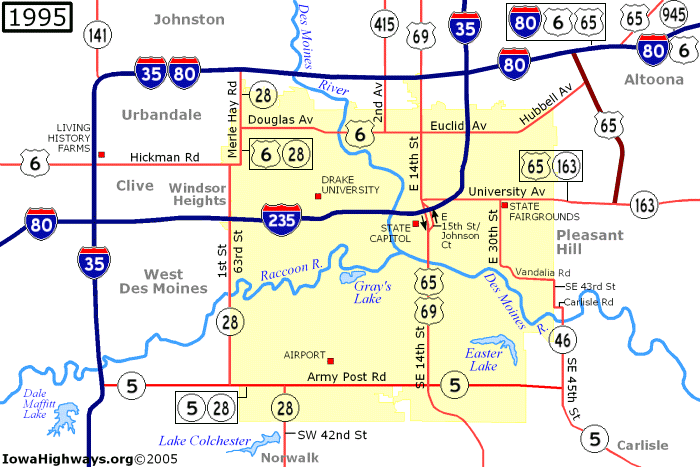 After the second segment of the bypass opened December 16, 1997, US 65 was taken off East 14th Street altogether, while IA 5 was put on US 69 between the temporary end of the freeway and Army Post Road. IA 46 was also nearing the end of its life. As the bridge across the Des Moines River was showing its age, the DOT announced in early 1998 that the bridge would be removed and IA 46 transferred to local jurisdictions. Once the bridge was removed, the segments of SE 45th Street south of Carlisle Road and north of SE 44th Avenue were closed to public access.

IA 5 was taken off Army Post Road east of IA 28 when the third segment of the freeway opened on January 12, 2001, but not before Army Post was relocated south of the airport to make room for future runway expansion. IA 28 was also realigned onto a new four-lane diagonal road in this area, first from McKinley Avenue to Army Post Road in 1995 and then from Army Post to Norwalk on August 11, 2000. Stubs of IA 28 that dead-end in both directions from Army Post Road and County Line Road remained in the state highway system as IA 296. The segment at Army Post Road was turned over in 2001, but the segment that is bisected by County Line Road remained part of the state highway system until sometime in 2010.

Finally, after the last segment of the IA 5 freeway opened on October 10, 2002, IA 5 was taken off Army Post Road altogether. (The last segment of Army Post Road became unsigned IA 331 and was transferred to West Des Moines, which annexed the area around IA 5 shortly after the freeway opened, by the end of 2005.) I-235, meanwhile, began an extensive reconstruction project that year that was completed in late 2007.