Overview
Iowa City, Iowa's first state capital and the longtime home of the University of Iowa, was part of the first military road in the state of Iowa. According to the Iowa Department of Transportation's Historic Transportation Milestones booklet, President Martin Van Buren signed a law allowing Iowa's first territorial road to be built from Dubuque through Iowa City to Keosauqua in 1839. The road from Dubuque to Iowa City was known as "Dillon's Furrow" as Dubuque merchant Lyman Dillon hitched five oxen to a heavy plow to build the road.

Once automobile travel became common and Iowa began numbering highways in 1920, the east-west IA 7 (the River-to-River Road) intersected two north-south highways, IA 11 and IA 40 (the Red Ball Route). Another east-west highway, IA 74, was a second route between Iowa City and Davenport that incorporated part of the Herbert Hoover Highway, an auto trail that was revived and resigned in 1987.

Maps of Iowa City that show street alignments from the early days of numbered highways are rare so the street alignments shown on the map below are estimates based on alignment changes of their successor highways, which was documented in an Iowa City Press-Citizen article on September 4, 1926. This 1920 map from the University of Texas' Perry-Castañeda Map Collection shows that the River-to-River Road may have followed College, Summit, and Court Streets through downtown while the Red Ball Route may have followed Capitol Street from the Pentacrest (note how that map refers to the then-State University of Iowa as "Iowa State University"; the college of that name in Ames was still Iowa State College at the time) to Benton Street. One thing that can be verified, however: the River-to-River Road between Coralville and downtown Iowa City was Johnson County's first paved highway, having been paved in 1921.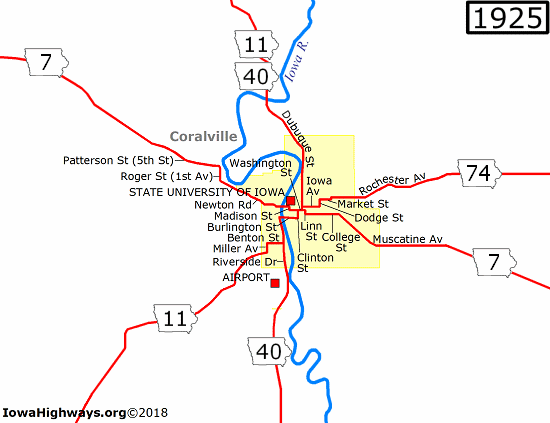 US 32 and US 161, which replaced IA 7 and IA 40, intersected in Iowa City when signage of the U.S. highway system was completed on October 16, 1926. The remaining pieces of IA 11 and IA 74 became IA 1 and IA 139, respectively. IA 139 became an extension of IA 1 in March 1930, less than a year after IA 1 was extended into downtown Iowa City at the urging of city leaders, while US 32 became US 6 by the end of 1931.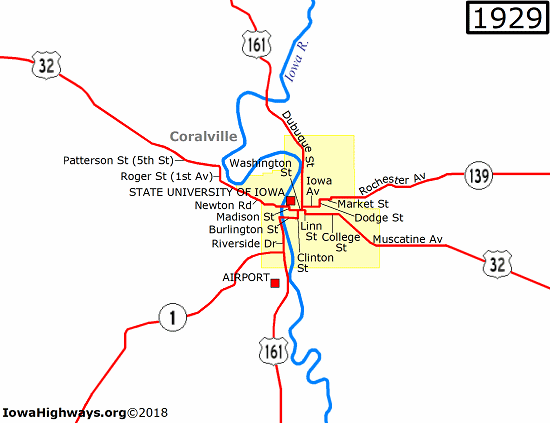 Jeff Morrison's research into the Highway Commission's meeting notes from the late 1920s and early 1930s mentioned some street alignment changes in the downtown area: IA 139 (later 1)'s move to Market Street and US 161's move to Dubuque Street were approved on October 15, 1929. Both moves were recommended by the city council of Iowa City on September 6 as an effort to reroute traffic in the downtown area. US 6's move to Burlington Street downtown took effect on January 8, 1932 — roughly a month after it replaced US 32 — but was not approved by the Commission until October 22. The Iowa City Press-Citizen reported that US 6 was relocated from Newton Road to a new road parallel to the CRANDIC railroad tracks on November 19, 1932. Two other highways, IA 153 (II) and IA 261, were added on December 1, 1930.

Highway alignments in the 1936 map below were verified by the Iowa Highway Commission's meeting notes of February 5, 1936. One thing to note is that IA 261 followed US 161 and IA 1 before terminating at Burlington Street while US 161 and IA 1 continued westward from that point. (You can't drive south on Dubuque all the way to Burlington today, as two blocks of Dubuque were closed to vehicles in the early 1980s to make room for the Ped Mall and what is now the Sheraton Hotel.)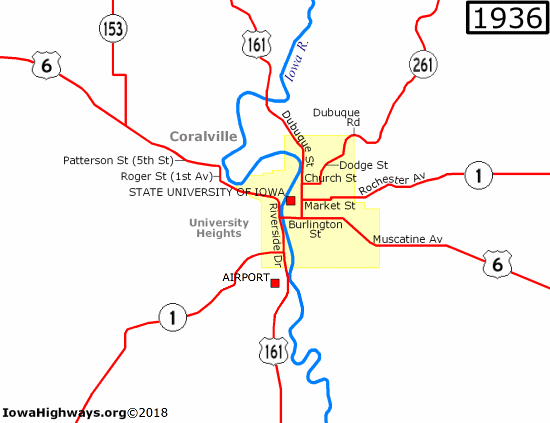 A 1946 Conoco map (cartography by H. M. Gousha) shows basically the same street alignments as the 1936 map above, with one notable change: US 161 became US 218 on January 1, 1938. Another alignment change came on July 7, 1939, when IA 261 was relocated onto a new paved road north of Iowa City that is known as Dodge Street today (the old Dubuque Road still exists). Aside from a 1949 street alignment change to IA 1, Iowa City's highways were unchanged during the 1940s.

On August 13, 1951, Iowa City and Kalona both celebrated the opening of a paved IA 1 between the two cities that was discussed as early as 1926 but lost in the shuffle for many years. Six and a half weeks later, a new US 6 opened to take it off Patterson and Roger Streets in Coralville. (After Coralville adopted its current street numbering system in 1953, Patterson and Roger became 5th Street and 1st Avenue, respectively. The new US 6 became 2nd Street.)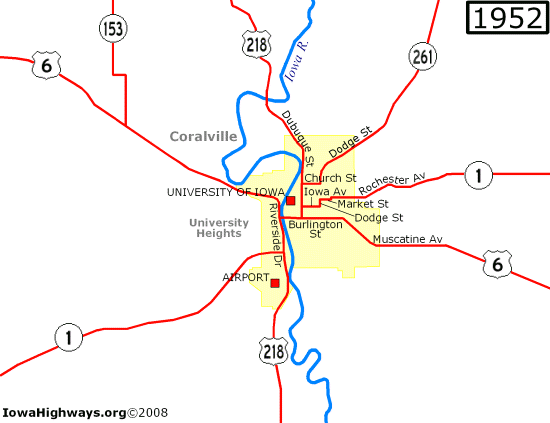 The second half of the 1950s brought two more changes to Iowa City's highways. Construction of Coralville Dam north of the city led to the creation of Coralville Lake — and the relocation of US 218 between Cedar Rapids and Iowa City. A new alignment of US 218 superseded most of the original IA 153, with a new IA 153 taking over part of the old US 218 in North Liberty until 1969. (The rest of old 153, which followed what would now be 25th Avenue in Coralville, has mostly been removed even though a small segment of 25th Avenue still exists near Coral Ridge Mall.) US 6 was taken out of the downtown area after a new four-lane bypass opened November 4, 1958. The old US 6 east of Iowa City, now signed as County Road F46, was renamed American Legion Road.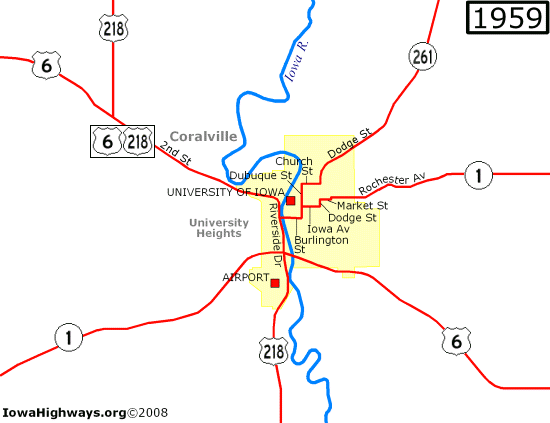 The authorization of the Interstate Highway System in 1956 would bring the transcontinental Interstate 80 north of Iowa City and Coralville. The segment of I-80 east of IA 1 opened for 12 hours on August 10, 1962, during the dedication ceremony of the Herbert Hoover Museum and Library in West Branch, but it would not permanently open until August 23.

The completion of I-80's first segments in the Iowa City area also led to changes in IA 1 and the end of IA 261. When the segment east of the original IA 1 opened, the Press-Citizen urged drivers in the city to avoid the streets that it followed due to congestion issues. After the city council agreed to ban parking along Dodge Street, IA 1 was moved to Dodge and Burlington Streets while IA 261 spent its final days on Dodge before ending at Market Street. I-80 opened between IA 261 and IA 1 on November 15, but IA 261 would intersect I-80 for only three weeks until IA 1 replaced its entire route on December 6. The state pledged to give Johnson and Cedar counties the old IA 1 within one year if daily traffic counts dropped below 400, but that did not happen, and the unsigned IA 979 east of 1st Avenue remained under state control for many years. However, drivers did not know they were still on a state highway — even the signs along I-80 read "Local Road" for many years. It would be 1987 before Johnson County and Iowa City (which annexed land along IA 979 between 1st Avenue and Scott Boulevard by 1966) would take over and rebuild part of the road west of I-80.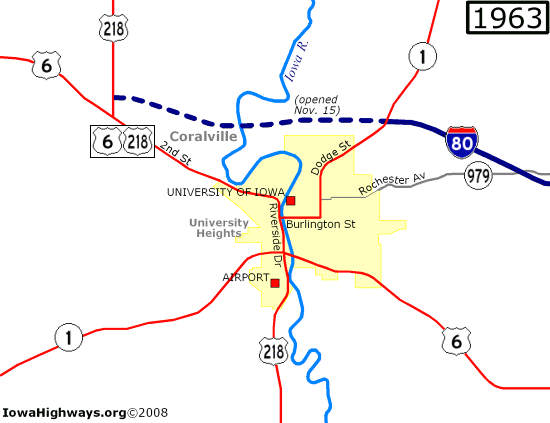 I-80 was completed to US 218 on November 15, 1963, and the segment west of there to Grinnell was completed on October 23, 1964, making Iowa City and Coralville part of a continuous Interstate highway link between Des Moines and the Quad Cities. Coralville would benefit from I-80's completion as a number of motels, restaurants, and gas stations opened along 1st Avenue in subsequent years. Another Interstate highway, I-380, was added to the Interstate system in 1968 but did not open in Johnson County until September 19, 1973. This gave Iowa City a four-lane link to Cedar Rapids as well.

IA 1's present alignment in Iowa City was set when Dodge and Governor Streets became the city's second pair of one-way streets on October 12, 1966; Market and Jefferson Streets became one-ways on August 30.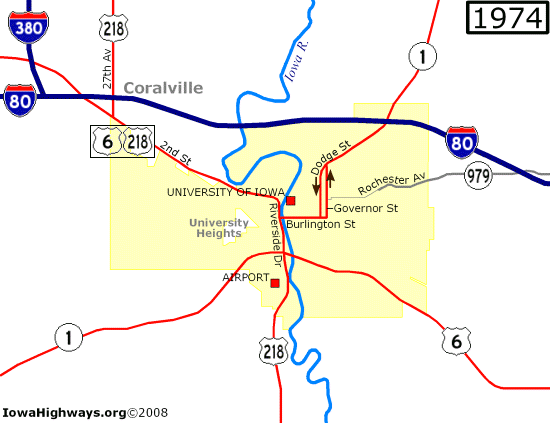 Plans to relocate US 218 west of Iowa City were discussed since at least 1962, when the Press-Citizen published a map of a proposed relocation on December 7. The original plan was for a four-lane divided highway with intersections, similar to US 6, that would have run due west from the IA 1/US 6/Riverside Drive junction and then due north to the existing US 218. In 1968 plans for a freeway-expressway system were unveiled, including a road with the working number of "Freeway 518" — a freeway from the I-80/I-380 junction west of Coralville to US 61 near Keokuk. However, the freeway proved to be controversial. In 1973 a federal court ordered the state to submit an environmental impact statement for the project, which originally would have been routed over an old Indian lookout site south of Iowa City but was eventually shifted west. By the time the EIS was approved in 1978, the proposed interchange with Melrose Avenue became an issue. Supporters, including the Iowa Transportation Commission, wanted the interchange to serve Kinnick Stadium and the University of Iowa Hospitals and Clinics. Opponents, including four of seven city council members and the city of University Heights, did not want to widen Melrose Avenue. The opponents would sue the Iowa Department of Transportation, but the council dropped its suit against the DOT after one opposing council member was defeated in the 1979 city council elections.

The US 218 freeway, which was called "New 218" by this point, finally opened June 26, 1985. It led to relocation of US 218 between I-80 and US 30 in Cedar Rapids, which created the first signed 900-series highway, IA 965, along 27th Avenue north of US 6. (27th Avenue was renamed Coral Ridge Avenue in 1998 after the mall of the same name opened.) The freeway still had its critics even after it opened, as one former city council member told the Press-Citizen that the DOT "spent $2 million a mile to take people to Ainsworth, Iowa". But while plans to extend the freeway toward Keokuk were dead by then, the freeway was incorporated into a planned four-lane road between St. Paul, Minnesota, and St. Louis, Missouri, that Mount Pleasant businessman Ernest Hayes dubbed the "Avenue of the Saints" in a Press-Citizen article on December 30, 1987. While Hayes died a few years later, the road ultimately became reality as Iowa's share of the Avenue of the Saints was completed in 2006 while Missouri's last segment opened July 25, 2008.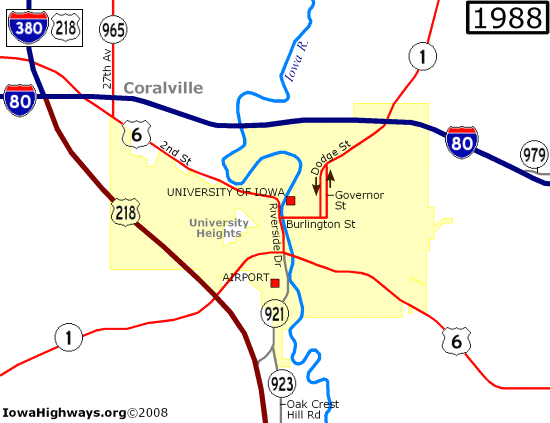 After about a decade and a half of stability, IA 27 became the Avenue of the Saints' designated highway number in 2001. Most of the 900s were eliminated on July 1, 2003, except for the piece of IA 965 between I-80 and US 6 even though it is no longer signed (this is the gray line on the map below).